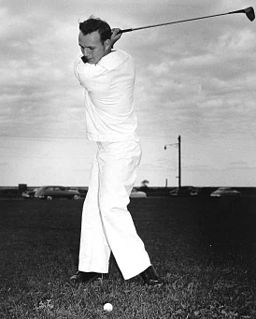 Arnold Palmer, the golfing icon, died on Sunday, September 25th, at the age of 87.
Can you believe it… He's gone!
There are two main reasons why I collected these 34 famous Arnold Palmer quotes:
First, to pay tribute to the American charismatic golfing great known as "The King."
Second, to learn from the master.
Also, I collected 14 best quotes on Arnold Palmer, which help you understand how and why "The King" had such a massive success in his life, business, and sports.
I handpicked all the quotes with bloggers and internet marketers in mind. Here you (as a blogger and marketer) find many invaluable lessons of life.
If you want to know how you can make $1,200+ a month online from the comfort of your home – well this is your chance


It's FREE to get started, too (no credit card required). You'll like that part…
After all, Arnold Palmer won 92 tournaments in his career, including seven major championships. Also, he was the first player in the world to make $1 million from playing golf.
However, not only these achievements made him a legend and golf icon.
Remember, back in the 1960s (before Arnold Palmer), golf was just a niche sport. Arnold Palmer "and his two great rivals in the "Big Three" — Gary Player and Jack Nicklaus — helped take the game around the globe in the 1960s, capitalizing on the ever-growing reach of television. Golf grew into made-for-television events, and with it came massive sponsorship and prize money." (Source: CNN)
That's what made him a legend.
But there is another side of Arnold Palmer – which is not less excellent. And that is…
Charity.
Arnold Palmer is not only known as "The King" of golf. He is also known as the philanthropic "Prince of Giving."
Can you believe that?
"He was not only one of the greatest golfers of all time, but also a generous man who gave so much to charitable causes in our community," – Buddy Dyer, Orlando Mayor (Source: Orlando Sentinel)
"Of course he's a worldwide golf legend but what I think is so much more important is the Arnold Palmer we know here in our community. When I think of what people can do as a celebrity, he broke the mold. He used his fame and status to do so much good for so many people." – Teresa Jacobs, Orange County Mayor (Source: Orlando Sentinel)
And, if you did not know, Arnold Palmer has founded the Arnold Palmer Hospital for Children – Ranked Among America's Best Children's Hospitals by U.S..S. News.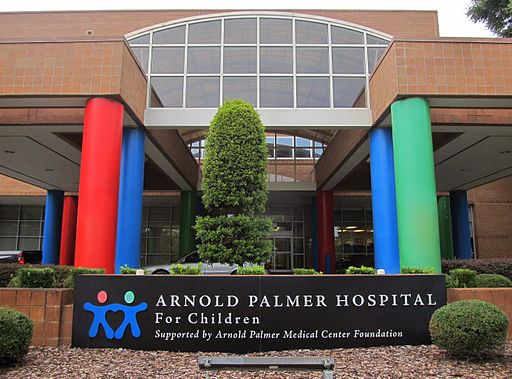 Awesome! It's an absolutely brilliant achievement.
You definitely want to learn from "The King" of golf and "Prince of Giving", don't you?
So, here we go – 14 quotes on Arnold Palmer. And 28 famous Arnold Palmer Quotes:
First stop:
14 Quotes on Arnold Palmer
---
1. "Nobody loved playing golf more than Palmer, who always seemed to being have a blast, even when he missed putts. But at the same time, he was as competitive as they came." – Business Insider
---
Jack Nicklaus on Arnold Palmer
2. "We were great competitors, who loved competing against each other, but we were always great friends along the way." (Source: Business Insider)
3. "That's Arnold. His hand strength was amazing. He was hitching his pants, looking around, getting ready to hit a shot, regripping the clubs while he waited. That was Arnold right there. Just amazing." (Source: USA Today)
4. "My friend—many people's friend—just wore out. I know he was in Pittsburgh trying to find out how to make himself better. That's what Arnold has always tried to do. He has always been a fighter and he never gave up on anything. He didn't give up even now. Maybe his body did, but I know Arnold's will and spirit did not."
5. "Arnold transcended the game of golf. He was more than a golfer or even great golfer. He was an icon. He was a legend. Arnold was someone who was a pioneer in his sport. He took the game from one level to a higher level, virtually by himself. Along the way, he had millions of adoring fans—Barbara and I among them. We were great competitors, who loved competing against each other, but we were always great friends along the way. Arnold always had my back, and I had his. We were always there for each other. That never changed." (Source: USA Today)
---
Gary Player on Arnold Palmer:
6. "Arnold Palmer simply transcended the game of golf. He was inspirational to so many and lived his life to the fullest. He had a slashing, dashing style accompanied with a knowing smile. He was loved by all even when they did not know him. He always made an effort, even when the odds were stacked against him." (Source: USA Today)
---
Nigel Currie on Arnold Palmer:
7. "He had the good looks, and affable persona and smile, as well as golfing ability, to become the template for what every successful sports endorser should be.
8. "Before then sportsmen made all their money from hitting a ball in a sporting arena.
9. "He was the prototype for all of today's high earning sportsmen and women, and one of the few people you can truly say changed the world of sports business," – Nigel Currie, the sports sponsorship expert and a director of Sports Marketing PR. (Source: BBC)
---
Tim Finchem (PGA Tour) on Arnold Palmer:
10. "More than his words, Arnold's actions spoke to his unequivocal love of golf and belief that no individual can be or should be bigger than the game. Arnold totally gave of himself to support golf and its growth.
11. "Beyond being an invaluable friend of the TOUR who generously gave of his time, opinion and support, Arnold was a wonderful personal friend and was someone who was always there for me with advice, support and guidance." – Tim Finchem, the PGA TOUR Commissioner (Source: PGA Tour)
---
Jordan Spieth on Arnold Palmer:
12. "You inspired millions, you changed the game," – Jordan Spieth, an American professional golfer on the PGA Tour (Source: The Guardian)
---
Tiger Woods on Arnold Palmer:
13. "Your philanthropy and humility are part of your legend." – Tiger Woods, an American professional golfer who is among the most successful golfers of all time.
14. "He meant so much to the game and to me personally. I knew that I could always call him for advice…" (Source: USA Today)
---
READ ALSO: Rio 2016: 41 Motivational Quotes by Athletes That Boost Your Confidence
27 Famous Arnold Palmer Quotes
1. "What other people may find in poetry, I find in the flight of a good drive."
2. "I probably have a club in my hands 360 days a year, one way or another, playing with friends or just fiddling around or hitting balls."
3. "When people ask what's driven me all these years, I always give the same answer. It's you."
---
Famous Quotes On Winning:
4. "Life's battles don't always go to the strongest man; But sooner or later, the man who wins is the man who thinks he can."
5. "Success in golf depends less on the strength of body than upon strength of mind and character."
6. "Winning isn't everything, but wanting it is."
7. "You must play boldly to win."
8. "I don't look at it as a gamble, really. I just look at it as a harder shot. Why hit a conservative shot? When you miss it, you're in just as much trouble as when you miss a bold one."
---
9. The secret of concentration is the secret of self-discovery. You reach inside yourself to discover your personal resources, and what it takes to match them to the challenge.
10. "Concentration comes out of a combination of confidence and hunger."
11. "Concentration, Confidence, Competitive urge, Capacity for enjoyment.
12. "What do I mean by concentration? I mean focusing totally on the business at hand and commanding your body to do exactly what you want it to do.
---
13. "The more I practice, the luckier I get."
14. "The road to success is always under construction."
15. "'Should have' and 'did' may be neighbors, but they don't always get along."
---
Quotes On Overcoming Obstacles:
16. "When you play by the rules, defy mental demons, overcome every challenge, and enjoy a walk in the country at the same time—that's being alive."
17. "If you're in trouble, 80 percent of the time there's a way out."
---
Quotes on Never Quitting:
18. "I've always made a total effort, even when the odds seemed entirely against me. I never quit trying; I never felt that I didn't have a chance to win.
19. My search for ways to improve my touch has never ended. We players tried a lot of different things and compared notes. Little fads would set in.
20. "The most rewarding things you do in life are often the ones that look like they cannot be done."
21. "Always make a total effort, even when the odds are against you.
22. "I've learned the great value of diplomacy and seeking an honorable peace. But part of that wisdom is knowing when to fight, and another part is knowing when to fight even harder."
---
Arnold Palmer Famous Quotes on Learning:
23. "One thing I've learned over time is, if you hit a golf ball into the water, it won't float."
24. "Golf is a game of inches. The most important are the six inches between your ears."
---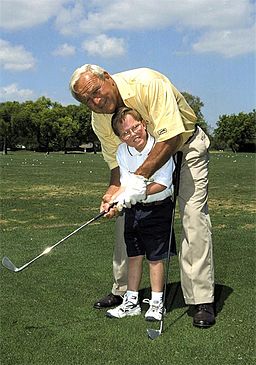 Quotes On Goals of Life:
25. "Making a positive change in the life of a child is one of the most significant things you can do."
26. "I'm not much for sitting around and thinking about the past or talking about the past. What does that accomplish?
27. "Timing is everything in life and in golf."
28. "I'd known I'd always play golf, not as a club pro, but in some other capacity. I guess, in some vague way, I pictured myself as a businessman competing in all the top amateur tournaments. But winning the national amateur championship gave me the confidence to do what I really wanted to do with my life. Not only was it one of my proudest moments, it led directly to me going out on tour as a professional golfer. And obviously, that led to everything afterward."
---
And Finally,
Arnold Palmer Funny Quotes:
29. "It's pretty widely known that I will talk to just about anybody who happens to be breathing. Especially fans and paying customers."
30. "You know your getting old when all the names in your little black book have M.D. after them."
31. "I have a tip that can take five strokes off anyone's game. It's called an eraser."
32. When I was growing up, they had just found radio. (when asked if he watched much golf on television when he was growing up) (Source: Arnold Palmer Official Website)
33. "Sam Snead will fly anywhere in my plane with me. Sam's not as worried about the danger as he is about saving money."
34. "This was all orange groves and two-lane roads when we started. We were here before Disney." (telling about his home county – the Orange County, Orlando, Florida)
Imagine for looking for legit work-from-home opportunities and finding THIS when you go inside… WOW


Yes, the raw, sizzling beauty of passive income stream online… Please click now. Because sometimes 'later' becomes 'never .'
Share Your Thoughts:
Which one of these famous Arnold Palmer quotes help your career the most? Tell me by leaving a comment below.
You might also like:
Featured image: Arnold Palmer at the Masters Par 3 Tournament, by Dan Perry, (CC BY 2.0). The image is cropped.